Tork Craft | Hinge Boring Bit, 35mm Tungsten Tip

35mm Hinge boring bit - TCT.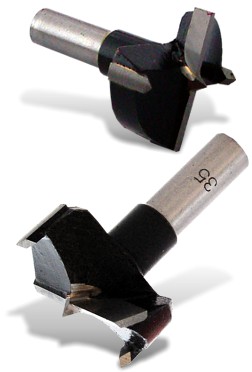 For European style concealed hinges. Includes side cutting "spurs" for fast, clean boring.
S

uper-strength steel

TCT

head with precision balanced centre point
2 TCT precision ground cutting edges (Z2)
2 Ground spurs (V2)
The secret to creating seamless, flush cabinets in your home is to use hidden hinges instead of the traditional cabinetry hardware. They are also known as cup hinges or European hinges, concealed hinges install on the inside of the door.
Unlike traditional, exterior butt hinges, these hidden hinges can adjust after installation for a perfectly hanged door.
They require a 35mm metric Forstner drill bit – also called a hinge-boring bit - for their installation because these hinges were only available from European manufacturers for many years. These hinges are readily available in most hardware stores.