Sawstop Contractor Saw Fence Rail Ass. (Online Only)
Description
30 in. Aluminum Fence for CNS175 Contractor Saw

The SawStop® Accessory Part no. CNS-SFA:
30" Fence Rails and Material Support Shelf Assemblies with Hardware for contractor saw only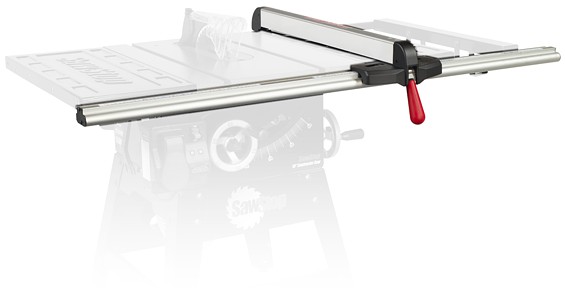 This product icludes only the fence system. 
SawStop's 30" aluminum fence delivers the highest level of accuracy while easily adjusting to provide the right amount of rip for the task at hand.
Quick facts:
Up to 30 in. right and 16 in. left rip capacity
Durable yet lightweight aluminum construction for a long lasting fence
Separate hairline indicators for each scale allow for accurate alignment
Automatically aligns itself once clamped down
Includes:
30 in. Aluminum Fence for CNS175 Contractor Saw - CNS-SFA
ONLINE ONLY - This product is only available online and carries a delivery period of up to 10 days. We shall endeavour to deliver orders to you within the specified delivery period, but any such time frame shall be an estimate only. We cannot always guarantee availability and will inform you as soon as possible if any products are not available.